The Creatures of Prometheus, Op. 43: VIII. Finale. Allegretto
London Philharmonic Orchestra
20 hours ago
Symphony No. 38 in D, K. 504 "Prague": III. Finale (Presto)
Orchestra Mozart & Claudio Abbado
20 hours ago
Manuel Maria Ponce: Estrellita
SHILLAMUSIC
20 hours ago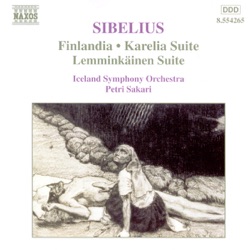 Finlandia, Op. 26
Jean Sibelius & Finnish Radio Orchestra
21 hours ago
Sonata from Cantata 182
American Bach Soloists, Julianne Baird, Drew Minter, Benjamin Butterfield & James Weaver
21 hours ago
Symphony No. 83 in G minor, Hob.I:83, "La poule" (The Hen): II. Andante
Thomas Fey
21 hours ago
The 4 Seasons, Op. 8/4, RV 297, "Winter"
Antonio Lucio Vivaldi World Sympony
22 hours ago
Calm Sea & Prosperous Voyage, Op.27
Dr. Jeffrey Thompson
23 hours ago
Romance in F
Ludwig Van Beethoven
23 hours ago
Autumn Moon Over the Calm Lake (Arr. Chen Peixun) [Live]
Jiyang Chen
23 hours ago
Se mere
KUSC Classical 91.5 FM KDB direkte
KUSC is a non-profit Classical Music radio station owned by the University of Southern California. It operates using the frequency 91.5 FM in the Greater Los Angeles Area and live streaming globally through the internet.
Listeners and Classical Music aficionados financially support the station. Its line-up is music-focused, offering different music shows specialized in a particular decade or music style within Classical music, as well as live talk shows with elements of entertainment. The station also features several live concerts around the world.
KUSC takes a modern approach to the way it promotes Classical music, offering fun and educational segments such as the Great Composer Quiz on its morning show and compiling a Top 100 Countdown with the most popular classical pieces selected by listeners.
Popular shows
Classical California All-Night
Classical Music
Classical Requests
A Joyful Noise
A Musical Offering
Modern Times
Popular hosts
Rick Capparela
John Van Driel
Alan Chapman
Dianne Nicolini
Jim Svejda
Jennifer Miller
Gail Eichenthal
Kategorier:&nbsp
Classical
Frekvenser KUSC Classical 91.5 FM KDB
Los Angeles: 91.5 FM
Morro Bay: 99.7 FM
Palm Springs: 88.5 FM (KPSC)
San Luis Obispo: 99.7 FM
Santa Barbara: 93.7 FM
Santa Clarita: 91.5 FM
Thousand Oaks: 91.1 FM
Se mere
Topsange
Sidste 7 dage:
1. Camille Saint-Saëns - Cello Saint-Saëns
2. George Frideric Handel - Bourree
3. Various Artists - Bruch, Concerto For Violin And Orchestra No. 1 In G Minor, Op.26 - 1st Movement:
4. Mozart Modern - Clarinet Concerto In A, K. 622, Adagio
5. George Frideric Handel - Concerto II in B-Flat
6. Domenico Cimarosa, Harmoniae Templum Chamber Orchestra & Simone Perugini - Artemisia
7. Christian Lindberg, James DePreist & Malmö Symphony Orchestra - Symphony No. 7 in a Major, Op. 92: II. Allegretto I
8. Ludwig Van Beethoven - Romance in F
9. SHILLAMUSIC - Wolfgang Amadeus Mozart: Mozart Wiegenlied
10. Jean Sibelius & Finnish Radio Orchestra - Finlandia, Op. 26
Sidste 30 dage:
1. Camille Saint-Saëns - Cello Saint-Saëns
2. George Frideric Handel - Bourree
3. Coleridge-Samuel Taylor - Eleanore
4. Ludwig Van Beethoven - Romance in F
5. Matias Dupont - Symphony
6. Arcangelo Corelli - Concerto Grosso In G Minor, Op 6 #8 / Pastorale
7. SHILLAMUSIC - Wolfgang Amadeus Mozart: Mozart Wiegenlied
8. Antonín Dvořák - Antonín Dvořák - Sinfonia n.8 op. 88 in sol maggiore, B. 163 - Adagio
9. Ottorino Respighi & Elsa Respighi - Tarantella
10. Domenico Cimarosa, Harmoniae Templum Chamber Orchestra & Simone Perugini - Artemisia
Relaterede Podcasts
Kontakter
Website:&nbsp
www.kusc.org/
Adresse:&nbsp1149 S. Hill Street Suite H100 Los Angeles, CA 90015 USA
Telefon:&nbsp213-225-7400
E-mail:&nbspsupport@uscradiogroup.org
Sociale netværk
Del på
Kommentarer